Looking for some inspired DIY holiday treats and gift ideas?  You landed on the right blog!

My partners at Delicious Living have put together these wonderful holiday DIY gift and treat ideas for YOU!

Let's get started! 🙂
First up:  Gingersnap and Raspberry Jam Sandwich Cookies 
First, find the link to the original recipe/article here! (credit for recipe and all images :))
This recipe is from Myra Goodman's first cookbook, Food to Live By and was provided to Delicious Living for reprint. Myra says the cookies are even more outrageously good with jam. You can also add peanut butter to one side and make peanut butter and jelly sandwich cookies.  Here is Myra Goodman on this inventive holiday cookie recipe:
I invented this gingersnap recipe 28 years ago during our first year on the farm. My husband ate them so fast that I started to have them professionally made for our farm stand; we decided to share the recipe in my first cookbook, Food to Live By (Workman, 2006). They're even more outrageously good with jam. You can also add peanut butter to one side and make delicious peanut butter and jelly sandwich cookies.
Ingredients:
12 tablespoons (1½ sticks) unsalted butter, softened
1½ cups natural cane sugar, divided
1 large egg
¼ cup molasses
2 cups whole-wheat pastry flour
2 teaspoons ground ginger
1 teaspoon ground cinnamon
2 teaspoons baking soda
½ teaspoon salt
1 cup Homemade Raspberry Jam (or use your favorite store-bought variety – try to use fruit-sweetened only!)
Directions:
Position rack in center of oven and preheat to 350˚. Place butter and 1 cup sugar in a medium mixing bowl. Beat with an electric mixer at medium speed until smooth, 2–3 minutes. Add egg and molasses and beat until combined, about 1 minute.
Whisk together flour, ginger, cinnamon, baking soda, and salt in a bowl. With mixer on low speed, slowly add flour mixture to butter mixture; beat until smooth.
Roll pieces of dough between your palms to form small balls. Lightly roll balls in remaining ½ cup sugar. Arrange 12 balls on baking sheets, 1 inch apart; then press each cookie ball down with your finger until about ¼-inch thick. Bake until fragrant and cracks appear on top, 8–12 minutes.
Transfer baking sheets to a wire rack to cool for 5 minutes. Then, using a spatula, remove cookies to rack to finish cooling.
To make sandwich cookies, put 2 teaspoons raspberry jam in the middle of bottom side of one cookie; then cover it with a second cookie, back side facing jam, and press lightly. Assemble only as many as you will eat in a few hours because the jam's moisture makes the cookies lose their crisp texture. Dry cookies will keep in an airtight container for 1 month.
PER COOKIE: 153 cal, 6g fat (2g mono, 0g poly, 4g sat), 22mg chol, 1g protein, 26g carb, 0g fiber, 158mg sodium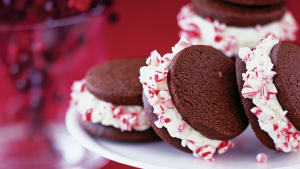 Next up, Chocolate Peppermint Sandwiches! Oh my!
Makes 12 / If you're not keen on cold treats, the chocolate cookies are delicious on their own. Preparation tip: Substitute mint chocolate chip or mocha frozen yogurt or ice cream, if you prefer. You'll have lots left over to enjoy with another dessert.
1 cup whole-wheat pastry flour
1/2 cup unsweetened cocoa
1/4 teaspoon baking soda
1/4 teaspoon ground cinnamon
1/2 cup brown sugar
1/2 cup natural cane sugar
4 tablespoons unsalted butter
2 tablespoons unsweetened applesauce
1 teaspoon vanilla extract
1 egg
1 pint fat-free vanilla frozen yogurt
1/2 cup crushed all-natural peppermint candies, divided
1. In a medium bowl, combine flour, cocoa, baking soda, and cinnamon. Set aside. In a large bowl, blend sugars and butter until fluffy. Add applesauce, vanilla extract, and egg. Once thoroughly combined, blend in flour mixture. Transfer dough to one end of a large sheet of waxed paper. Fold paper over dough; wrap completely, rolling dough into a 12-inch log. Freeze for 1–2 hours.
2. Preheat oven to 350°. Coat a baking sheet with cooking spray. Unwrap dough and slice crosswise into 24 cookies. Bake 12 at a time for 10–12 minutes until firm to the touch. Transfer cookies to a wire rack to cool.
3. While cookies are cooling, remove frozen yogurt from freezer to soften. Stir in 1/4 cup crushed peppermint candies. Place remaining 1/4 cup crushed candies in a shallow dish. Place 1–2 tablespoons frozen yogurt on the flat side of one cookie. Place another cookie (flat side down) on top and gently push together. Roll edges lightly in crushed candies. Repeat with remaining cookies. Wrap sandwiches individually in plastic wrap and freeze until firm, 2–4 hours.
PER SERVING (1 sandwich): 195 cal, 23% fat cal, 5g fat, 3g sat fat, 28mg chol, 3g protein, 36g
Here's the link to the original recipe!  http://deliciousliving.com/frozen-chocolate-and-peppermint-sandwiches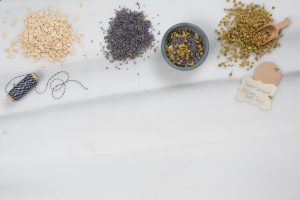 And finally, here is a DIY holiday gift idea!  Sweet Dreams Holiday Bath Bags!
This blend of relaxing herbs and skin-soothing oats is the perfect antidote to holiday-time stress. Just drop a bag into the tub, and mind and body will steep! Tip: Head to your natural retailer's bulk department, and have fun mixing and matching dried herbs and teas. 
Ingredients:
Cotton muslin
1/4 cup dried (chamomile)
1/4 cup coarse-ground rolled oats
10 drops rose essential oil
Jute twine
Directions:
Cut muslin into five 6-inch squares. Mix chamomile, lavender and oats in a medium bowl. Add 10 drops essential oil to the dry mix. Scoop a spoonful into the center of each muslin square. Bring all corners together, and secure tightly with jute twine. Gift in a festive mug.
Here is the link to the original DIY gift idea (credit goes to image as well):  https://goo.gl/vfmR5V
Looking for even more awesome holiday recipe ideas including some main dishes?  Click here!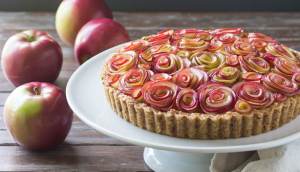 Wishing you the very happiest of holiday seasons ever!  Remember, enjoying and living life to the fullest is an essential part of well-being!  Seeking even more awesome, free content to enhance your health and well-being and happiness? Click below or to your right to join my exclusive email list for free, quality ideas and content to enhance your life on ALL levels!  See you on the inside!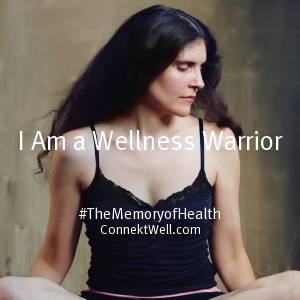 High-quality, real food and supplements offered by the natural foods industry changed my life.   I am very sensitive to artificial ingredients, GMO's, fillers, and low-quality ingredients (did you know if you are sensitive to something, it can create inflammation in the body – a big no-no!).
When I developed chronic fatigue, I turned to the natural foods industry to seek answers.   I began working in the supplements department of a natural foods store, and taking high-quality supplements (I've tried hundreds of them to find which ones work for me), and by learning how to eat well, I improved my energy levels and well-being significantly.  You can read more about my  journey here and in my book, The Memory of Health (see link below).
I cannot take prescription drugs, so for me, having access to high-quality supplements was a game-changer. 

In my quest for answers to my health challenges and well-being, I became a Conscious Consumer. 

I take them every day, and they make a BIG difference in the quality of my life and well-being.  I discuss supplements in great detail in my book, The Memory of Health.
You can find my book here!