How to Get and Stay Happy!
0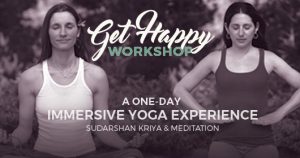 Do you wonder how to get and stay happy?  Research confirms there are actionable steps  you can take to reduce stress and step into the Flow.
What is one of the best ways to get and stay happy? Turns out, it is a form of meditation as well as breathing techniques called Sudarshan Kriya.
The following information is taken from The Art of Living Foundation's website on their Happiness Program:
Secrets of the Breath
The heart of the program is a series of take-home yogic breathing techniques that quickly clean out your stress and raise your energy, bringing you back to a clear and positive state of mind.
Scientifically Backed Results
The scientifically indicated benefits of the practices you'll learn include higher levels of optimism, greater levels of antioxidant enzymes, stronger immunity, improved emotional regulation and more.
Mastering the Mind
Understanding the nature of the mind gives you a greater perspective on life that enables you to not get bothered by issues that used to create frustration, impatience, worry and more.
Guided Yoga & Meditation
Learn some easy yoga poses you can incorporate into your day for greater health, focus and relaxation. Enjoy our unique guided meditations and get a taste of the beauty within.
Looking for an introduction to all of this?  Take the Get Happy program in the Bay Area, and enjoy an one-day immersive and meet Sri Sri!
Take a day to unplug, tune in, get real and get happy! Learn how to be sustainably happy! 
Featuring a once-in-a-lifetime opportunity to learn from a living master, global humanitarian and guru of joy, Sri Sri Ravi Shankar, and experience the power of Sudarshan Kriya right here in San Francisco!
Save your spot for this special event here:
https://portlandwellnesscoach.com/GetHappy
Take a day to unplug, tune in, and get happy with Sri Sri Ravi Shankar in San Francisco!