You Are Stronger Than You Think Movie
0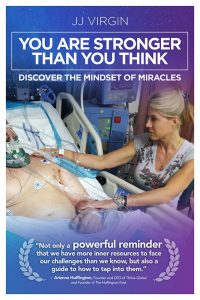 I want to invite you into the most powerful conversation about miracles – and mindset – that I think has ever taken place. My friend, JJ Virgin's, movie premiere, You Are Stronger Than You Think opens today. (And I have a front row ticket for you).
Check it out here!
http://portlandwellnesscoach.com/mindset
The world's leading minds debate that miracles are even possible.
…But this movie has created a powerful idea to consider:
not only are miracles possible, they come from you, not happen to you.
Here are the facts:
JJ's 16-year-old son was in a near-tragic hit-and-run accident and left for dead.
He was given a VERY low chance of survival.
This story – and what happened next – are life-altering.
Click here to join me (and I want to hear your thoughts – please add your comments on the world premiere page after you watch the movie).
Check it out here!
http://portlandwellnesscoach.com/mindset
P.S.: I know you're going to be moved by this experience! The next step is JJ's memoir, Miracle Mindset. Watch for it – I couldn't put it down.

* This is one of those once-in-a-lifetime stories. The movie is uplifting and life-altering…