Review of TechCare Massager
0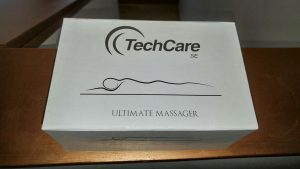 I have been given this product as part of a product review through the Chronic Illness Bloggers network.
Although the product was a gift, all opinions in this review remain my own and I was in no way influenced by the company.
WHAT IS TECHCARE MASSAGER: It is a combination of TENS and EMS device, drug free method of pain relief used by Physical Therapists and prescribed Doctors for over 40 years. The Techcare Massager delivers low-voltage pulses to the skin to stimulate nerve fibers effectively blocking the pain signal to your brain. Also increases natural endorphins–a natural pain reliever.  (Copy from Amazon.)
PAIN RELIEF: Techcare Massager contracts and releases the muscles, gets the knots out and will give you all the benefits of a massage (Copy from Amazon.)
Find it here! http://amzn.to/2jkkINN
I was given this wonderful device to try out.  It reminded me very much of the type of therapy one might receive in a physical therapist's office.  I believe it does more than just block pain.  I actually felt therapeutic effects from having used it.
You will want to read the instructions well in order to begin using your massager.  It is actually quite easy to use, but read the instructions beforehand.
I used this wonderful device on both my knee (or around my knee) as well as on my back.  I have a few long-standing injuries.  They are slowly but surely clearing up, and this massager is a wonderful addition to my arsenal.
This device has several settings to choose from.  I recommend trying them all, but try at the lowest level first!  Actually, each time you try a new setting, you will have to start again with setting the level as well.  I found the lowest levels work super well and are very therapeutic.
This definitely felt like therapy for my nervous system as well as my pain!
Some of you may know, I have dealt with chronic health issues.  I am always seeking new tactics and tools to help my body feel better.  This is why I joined the Chronic Illness Bloggers network, and this is how I was given the wonderful opportunity of trying out a wonderful product like the TechCare Massager!
In addition to helping me with my chronic pain and injuries, this device feels like a very therapeutic massage – that you can administer yourself!

This is a great device to add to your pain and wellness arsenal.  Highly recommend!
P.S. Don't be intimidated by getting your TechCare Massager set up.  It only takes a few minutes to read the instructions, get set up, and then you are ready to go!  This really is like any other massager on the market, as it feels more like a professional treatment you might find in a physical therapist's office.  The only difference is that you are in your own home, and you can have a therapeutic massage that addresses your injuries and chronic pain as well!
P.P.S.  A little goes a long way!  I recommend starting out with just 10-20 minutes! 
Again, you can find this wonderful massager here!  Find it here! http://amzn.to/2jkkINN