Kajabi Black Friday to Cyber Monday Sale! Doing Business Online? Use The Platform Brendan Burchard Uses
0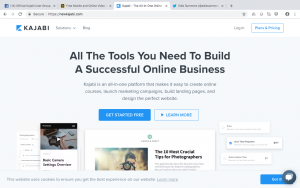 Black Friday to Cyber Monday Sale for Kajabi!
Heard about @Kajabi?  It's the all-in-one business platform used by thought leaders like Brendan Burchard to grow their business online. Get the basic plan at up to 60% off, before prices go up forever.  This offer ends on November 27th.  Find it here! https://app.newkajabi.com/r/skKqibB9/t/8jlzvqhw
Doing business online?
Explore the all-in-one business platform Brendan Burchard uses. Watch the free webinar on how to use #Kajabi for campaigns, landing pages, CRM, courses, launching books, and much more here! This is my favorite online platform!
Click here to watch a free webinar: https://lnkd.in/g3s74F4 hashtag#business
Kajabi is the platform Brendan uses to create compelling campaigns for his courses, books, and more!  This is the best platform I have found, and it is comprehensive!